Being on a diet, whether for weight loss, muscle building, or maintaining your health, is very difficult. Everyone gets cravings for something sweet, and that is a serious problem. There is a common belief that you can't have something like that. Here you have a few delicious choices of good healthy snacks, and you can enjoy them all you want.
Affiliate Disclosure
Some blog posts and web pages within this site contain affiliate links, which means we may earn a small commission if you click the link and then purchase a product or service from the third party website.
Purchasing a product or service from a link does not increase your purchase price, but it is a great way to thank us if you enjoy our content and find our suggestions helpful. Please note that we only recommend products and services that we have personally used or have thoroughly researched.
Convenient Nutrition Keto Wheyfer Cookies & Cream 10 x 35g Bars
Ingredients:
4-6 Net Carbs
9-11g Protein Per Serving
Fat Blend with Coconut and Palm Oil
No Sugar Alcohols
The Keto Wheyfer is an excellent-tasting Ketogenic Nutrition wafer that tastes more like a dessert than a protein bar. Light, crunchy, and delicious, very similar to the wafer cookies you used to eat as a child. But do not let this delightful wafer fool you! The Keto Wheyfer contains 9-11 grams of Collagen enhanced protein, MCTs, and 200 calories per serving.
It is very filling and leaves you satisfied and hunger-free for hours. 4-6 net grams of carbohydrates per bar and 1-2 grams of sugar. You can use it as a snack, for diet, pre/post-exercise, as a dessert, or anytime you feel like having something good for you that tastes great, whether you're on a keto diet or not. Collagen protein shows many benefits for healthy joints, bones, tendons, hair, skin, nails, muscles, and more.
Both coconut and palm oil are ingredients here, both high in MCTs (medium chain triglycerides). MCTs are easy to digest and provide instant energy to support metabolism and fuel. You'll never feel bloated after eating this bar. No after-taste. Unlike other keto and low-carb products that don't taste like a real thing, the Keto Wheyfer is the perfect combination of cream and crunch!
Supports your goals, whether that is weight loss, health, or vitality. The Keto Wheyfer is one of those good healthy snacks that will satisfy you and leave you hunger-free for hours.
NOCCO BCAA RTD Caribbean 12 – 12 Fl. Oz. Cans
Ingredients:
3000 mg of BCAAs
Sugar-free
Low Calorie
180 mg of caffeine.
BCAAs 4:1:1 (Leucine, Valine and Isoleucine) 3000 mg
Caffeine 180 mg
Vitamin B6
Vitamin B12
Biotin
Niacin
BCAAs are essential amino acids: Leucine, Isoleucine, and Valine that can help with muscle recovery. This is a sugar-free, low-calorie ready-to-drink beverage with 3g of BCAAs (branched-chain amino acids), vitamins, and caffeine.
NOCCO is a drink with BCAAs, caffeine, green tea extract, and four different vitamins. The drink is vegan and usually consumed in relation to exercise. NOCCO is available in four delicious flavors – Caribbean, Peach, Tropical, and Miami Strawberry.
Grenade Carb Killa Protein Bar Chocolate Chip Cookie Dough 12 – 60g Bars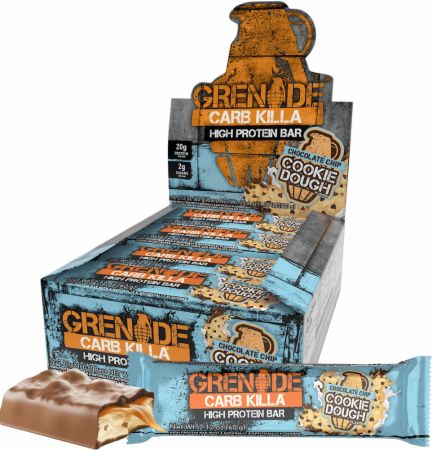 Key ingredients:
Calcium Caseinate
Milk Protein Isolate
Whey Protein Isolate
Carb Killa chocolate protein candy bar is one of the ultimate high protein good healthy snacks. Available in a range of flavors, you'll be spoilt with choice.
Each high-protein candy bar is triple-layered and coated in chocolate for the ultimate indulgence. These are the perfect way to get rid of those sugar cravings while also giving you enough protein. They're packed with protein and fiber but low in sugar and carbs, making them a great post-workout snack. Made using a unique baking process, Carb Killa high protein bars offer an exceptional taste.
The Carb Killa chocolate protein bar also gives you the great taste of a chocolate bar but with less sugar than 2g. You can enjoy protein bars as a nutritious snack, or they can help you to achieve your muscle-building goals because they contain up to 24g of protein in one bar!
Proteins also leave you feeling fuller for a longer time, so you can consume a Carb Killa protein candy bar alongside a healthy diet and regular exercise to curb those cravings when you are trying to lose weight.
While Carb Killa Protein bars are a great, healthier snack to enjoy, they aren't a meal replacement and should only be consumed as part of a healthy, balanced diet. They contain only 220 calories.
Herbaland Pre Workout Gummies Sour Blue Raspberry 12 – 50g Pouches
Ingredients:
500mg Beta-Alanine
500mg L-Citrulline
500mg BCAA
35mg Niacin
100mg Caffeine
sweetened with stevia
Pre-workout gummies that support power & endurance during your workouts, which puts them in a category of good healthy snacks even if they are actually more like healthy candies.
You can achieve your fitness goals by adding Herbaland's new Pre-Workout Gummies to your stack.
These performance gummies provide an extra kick of energy while aiding athletic performance.
Our carefully selected scientifically proven ingredients give both power and endurance athletes that added edge.
Each case contains 12 pouches.
Each dose contains caffeine. Consult a doctor before using any dietary products if you are of childbearing age, pregnant, or breastfeeding. Use with other caffeine-containing products is not recommended.
It is formulated to provide an extra kick of energy while aiding athletic performance. Vegan, Non-GMO, Gluten-Free, Allergen Free, Low-Sugar.
Quest Nutrition Protein Cookie Peanut Butter 12 Cookies
Ingredients:
9-12g of fiber
Less Than 1g of Sugar Per Cookie
15-16g of Protein
Imagine good healthy snacks in the form of cookies. Quest Protein Cookies are exactly that, and they are made with dairy proteins to provide your body with all nine of the essential amino acids it needs. They support muscle growth and recovery. These soft & chewy treats are keto-friendly and packed with protein, with 1g of sugar or less. Quest Protein Cookies have all the taste of a soft and chewy cookie, but with 15 or 16g of protein and less than 1g or up to 1g of sugar per serving.
Final Thought
An excellent choice of good healthy snacks, isn't it? From delicious bars to drinks, cookies, and candy. All of them are healthy and can be used despite being on a diet. It seems there is a solution after all to those cravings. Many people are so busy they don't have the time to sit down and have a regular meal; food like this is a great help because it ensures you get what you need to go through the day. Feel free to leave your comments and thoughts below.